Volume 7 No. 9
October 27, 2023
---
---
Responding to an Opioid Overdose: Facts, Figures, and Resources
According to the 2023 U.S. Coast Guard - American Waterways Operators Annual Safety Report, five fatalities not directly related to towing vessel or barge operations were reported to the Coast Guard last year. One of these five fatalities was attributed to drug overdose. The fatal overdose was discovered when vessel personnel found two of their crewmates unconscious while underway. One of these mariners died from their overdose. The other was hospitalized. Compounding the concern, a post-incident drug screening resulted in a positive drug test for two other crew members on the vessel. The investigation is ongoing at the time of this article.
This event occurred as rates of preventable overdose deaths in America increase. According to the National Safety Council and the Centers for Disease Control and Prevention, the United States has seen a 17% increase in drug overdose deaths attributed to opioids from 2020 to 2021. These opioid overdose deaths account for more fatalities than all other drug overdoses combined. The human cost of this trend is immeasurable. The cost to the United States economy is estimated at more than $1 trillion annually.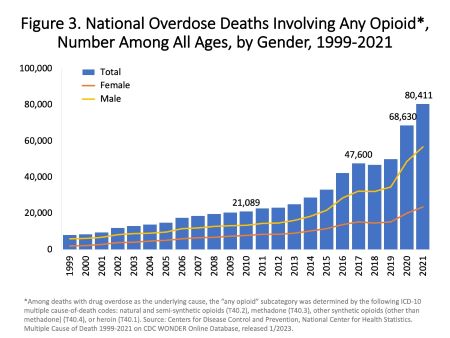 Marine employers are required to follow the U.S. Coast Guard's chemical testing requirements and to provide an employee assistance program (EAP) for all crewmembers that includes training on the effects and consequences of drug and alcohol use on personal health, safety, and work environment. These requirements seek to reduce the potential for drug abuse on vessels and to remove any crewmember that has a positive drug test and/or drug test violation from their safety-sensitive duties. What is not addressed by these requirements is the use of drugs like naloxone, also known by the brand name NARCAN®, which can be used as an emergency response resource to reverse the effects of an opioid overdose in a similar way to an automatic external defibrillator (AED) that can resuscitate a person experiencing a cardiac incident.
The decision to provide naloxone on vessels or facilities should be made only after conducting a thorough management of change process. Employers should conduct a risk assessment and discuss liability, staff roles, records management, and employee training as part of this process. Alternatively, employers may provide voluntary training and resources for employees related to naloxone without purchasing the drug individually or including it in first aid kits.
These considerations are important for all operators as the overdose crisis in the United States claims more lives each year than firearms, suicide, homicide, or motor vehicle crashes. For resources or information to help your organization build a plan for naloxone use, visit the government and safety organization websites listed below.
| | |
| --- | --- |
| National Safety Council | |
| Centers for Disease Control and Prevention | |
| U.S. Coast Guard | |
---
AWO and OCIMF Hold Productive Roundtable and Identify Next Steps for Partnership
At AWO's Fall Convention in Philadelphia on October 11, Oil Companies International Marine Forum (OCIMF) members and staff held a productive roundtable discussion with the nearly 150 members in attendance. The discussion was led by Austin Golding, President of Golding Barge Line; Ton Mol, Barge Advisor for OCIMF; Dave Vaughn, Senior Marine Operations Advisor of SeaRiver Maritime; Josh Chavers, Marine Assurance for Phillips 66; and Michael Breslin, Safety and Sustainability Director for AWO. Topics covered included Ship Inspection Report Exchange (SIRE) inspector training and availability, the timeline for implementing SIRE 2.0, and the challenges OCIMF must work through as the program is updated to ensure the question sets are applicable to the U.S. vessels and mariners subject to inspections.
Post-inspection activities and inspection reports were also discussed. OCIMF members confirmed that the severity of findings, not the number of findings, should be the measure used to establish the risk profile of a vessel. AWO members also brought up the benefits of idle versus active SIRE inspections and asked for consideration to extend the election window from 72 hours to 96.
This robust dialogue between AWO and OCIMF underscores the industry's commitment to maintaining high standards of safety and quality in the marine industry, always with an eye toward continuous improvement and transparency with our shipper customers. Just days after the roundtable, OCIMF and AWO formed an agreement to include AWO member representatives as observers and technical advisers in the OCIMF working group guiding the creation of new question sets for SIRE inspections. The group is slated to start work in November; however, AWO members are already reviewing the current question sets to make comments in advance of the first meeting.
To learn more about the roundtable and the working group, please contact Michael Breslin at mbreslin@americanwaterways.com.
---
U.S. Coast Guard Issues Final Inland Firefighting Training Rule
The Coast Guard has issued a final rule that revises the firefighting training requirements for mariners seeking Merchant Mariner Credential endorsements as master of towing vessels (limited) or mate (pilot) of towing vessels on inland waters (excluding the Great Lakes) or Western Rivers routes. The rule allows mariners in these categories to take a modified basic firefighting course, excluding training on equipment not required on these types of towing vessels. However, mariners seeking endorsements for other routes must still complete the full basic firefighting course. For many years, AWO advocated for a change in firefighting training requirements for inland mariners because the current course is designed for personnel on vessels regulated under the STCW Convention. The new rule's effective date has been delayed until April 1, 2024, to allow time for training providers to develop and gain Coast Guard approval for the modified basic firefighting course.
---
American Waterways HERO Award Winners - August and September 2023
The American Waterways Honor & Excellence in Rescue Operations (HERO) Award recognizes rescues undertaken by AWO member company employees that demonstrate selflessness, skill, and bravery. AWO is honored to recognize mariners for the great things they are doing every day to protect themselves, their crews, the environment, and the communities in which they operate.
AWO was excited to announce a sponsor for the winners of the award at our Safety Committees' Summer Meeting. 360 Coverage Pros and Berkley Offshore now offer a one-year complimentary Marine License & Professional Liability Insurance policy to all crew members recognized with the award. Details about how to submit a nomination for the American Waterways HERO Award and the submission form can be found on the AWO website.
Please help us thank and shine a spotlight on our industry's heroic mariners by sending in a nomination! Congratulations to these recent recipients of the American Waterways HERO Award:
| | | |
| --- | --- | --- |
| Company | Vessel | Date of Event |
| Southern Devall | MV Larry Tilley | 6/24/2023 |
| Enterprise Marine Services | MV Madeline | 8/28/2023 |
---
AWO High Potential Learning Value Near Miss
Near Miss and Stop Work events are leading indicators that provide operators with an opportunity to identify and address weaknesses in a safety management system before a hazardous condition or lack of procedure contributes to an injury or incident.
We are highlighting recent High Potential Learning Value Near Misses submitted voluntarily by AWO members. To submit your own Near Miss or Stop Work event, please use this form. To see all published High Value Near Misses, please visit the AWO Resources website: https://www.americanwaterways.com/resources.
MEMBER-SUBMITTED NEAR MISS 23-12 - Unsafe Gangway
On October 18, an AWO member company secured a tank barge to a liquid terminal facility to discharge cargo. Terminal employees installed a gangway to access the barge from shore; however, the gangway was not secured properly to the barge. The vessel crew, noting the unsafe condition, contacted their operations office to report the unsafe condition and called stop work until the gangway was properly secured.
POSSIBLE IMPACTS OF THIS EVENT COULD HAVE INCLUDED:
1. Injury or fatality of vessel crew, tankermen, or facility crew.
2. Damage to barge appliances and structures in the case of the barge breaking from its moorings.
3. Damage to gangway or shoreside structures due to changing draft and pitch of the barge.
LESSONS LEARNED & FUTURE RISK MITIGATION:
1. The crew reported the unsafe condition and called 'Stop Work' until the issue was fixed. This is the proper course of action to be followed in most instances similar to this one.
2. It is always best practice to establish good communication with the facility crew leader at the onset of a loading or unloading,
3. If possible and appropriate, include facility and terminal workers and managers in emergency response training and/or vessel drills.
---
BSEE Issues Safety Alert No. 469, Identifies Medical Evacuation and Emergency Hazards During Risk-Based Inspections
In January 2023, the Bureau of Safety and Environmental Enforcement (BSEE) conducted a Performance-Based Risk Inspection (PBRI) for 20 production and well operation sites in the Gulf of Mexico, encompassing facilities operated by 15 different companies. Inspectors identified numerous issues, including inconsistencies in injury and illness documentation, procedural gaps, potential flaws in working practices, and problems with medical support and evacuation resources, which could impact emergency response capabilities.
While offshore platform operations are vastly different from the inland and coastal vessel operations of the tugboat, towboat and barge industry, BSEE's findings produced valuable corrective action suggestions that translate to our industry.
BSEE recommends operators and their contractors, where appropriate, consider the following:
Update medical evacuation procedures, verify details, and communicate plans to ensure emergency preparedness.

Implement rigorous medical supply inventory management, checking expiration dates and maintaining adequate stock.

Conduct regular scenario-based emergency drills to practice response plans and address weaknesses.

Ensure each (vessel or facility) has at least two escape routes from upper levels to the water surface.*

Inspect hoisting capability of Stokes litters and consider stair evacuation chairs for transporting disabled individuals.

Monitor and document monthly checks of automatic external defibrillator (AED) placement and functionality.

Assess response times for accessing medical support and tailor emergency plans for remote locations.*
*These recommendations have been shortened and modified to be more applicable to towing and barge operators.
---
NTSB Investigation Report: Crane Fire on Board Barge Kokosing V
The National Transportation Safety Board (NTSB) concluded its investigation into a fire that began on a dredging crane working on the spud barge Kokosing V in the James River near Newport News, Virginia.
Casualty type

Fire/Explosion

Location

James River, Newport News, VA

Date

10/4/2022

Time

2230 Eastern Daylight Time

Injuries

None

Property damage

$1.4 million est.

Environmental damage

Potentially 85 gallons of diesel fuel and 50 gallons of hydraulic fluid lost. No sheen observed.
Investigators believe the fire on the Kokosing V barge began when burning hydraulic fluid liquid leaked from under the crane and onto the barge. The crew tried to put the fire out with extinguishers and water but had to evacuate. A fireboat crew eventually extinguished it. Investigators couldn't confirm if a hydraulic or fuel leak caused the fire. However, the destroyed battery compartment behind the crane's driver area on the left side, along with fire patterns, suggest an electrical origin. Electrical damage was also observed on the cables beneath the crane, indicating arcing. The exact ignition source, which may have been loose connections or damaged wiring, could not be determined due to extensive compartment damage.
The fire on board Barge Kokosing V was identified by the project foreman when he noticed a fiery liquid dripping underneath the crane at approximately 2230 while the crane was performing dredging operations. The foreman alerted the operator, who exited the cab and began assisting with firefighting duties. The crew used portable extinguishers, a portable water pump on the barge, and the tug Justin's fire pump to fight the fire, though they were not able to extinguish the flames and eventually evacuated to safety.
Lessons Learned from AWO:
The foreman's attentiveness very likely saved the crane operator and other mariners from serious injury. By performing walk-around inspections, as is best practice for any active job site, the foreman identified the fire in its early stages and was able to alert workers in the area.
The crew also demonstrated their firefighting training as they attempted to extinguish the flames using all available means. Though they were unable to save the crane and its wooden deck mat, the barge, tug, and personnel were saved from injury and loss by the quick action taken by the crew.
For the full report, visit the NTSB website.
---
NTSB Investigation Report: Contact of Vehicle/Passenger Ferry Cathlamet with Mooring Dolphin
On July 28, the passenger and car ferry Cathlamet struck a ferry terminal dolphin as it approached the Fauntleroy Ferry Terminal around 8:14 a.m.
The master of the ferry took control around 8:10 a.m. when the vessel was about half a mile from the terminal, relieving the quartermaster, who remained in the wheelhouse as a lookout to assist docking at the next ferry stop. At around 8:12 a.m., the master contacted the engine room to engage the no. 2 engine to assist in slowing the vessel as per docking procedures. The master steered the vessel over the next several minutes, but the resulting angle of approach recorded by AIS showed the vessel out of line for docking. In addition, the vessel did not decrease speed, take evasive action, or sound the general alarm before the contact, indicating a proper lookout may not have been established.
The vessel did not follow pre-arrival checklist requirements, such as slowing down when it was a quarter mile from the dock. It also did not radio the terminal, sound the whistle, or make the landing announcement over the public address system. When the quartermaster realized that the vessel was on a collision path, they had to prompt the master three times to maneuver the ferry astern to prevent running aground. These actions and inactions also suggest that the master had a lapse of attention due to progressive incapacitation which may have been caused by fatigue due to poor sleep quality during the 96 hours prior to this event. The master self-reported that a local heat wave and a family member's poor health had contributed to his problems getting a good night's rest.
Lessons Learned from the NTSB:
Watchstanding violations, fatigue, and complacency were causal factors noted by the NTSB investigation in this case. Mariners must be aware of the performance impacts of sleep deprivation and the dangers of fatigue, including the risk of microsleeps. When fatigued, mariners should arrange for a qualified replacement and avoid being on duty when unable to perform their responsibilities safely.
Repetitive operations like ferry transits demand sustained vigilance to prevent complacency. Complacency arises when tasks are repeatedly completed without apparent risk, leading to a reduced sensitivity to inherent dangers. To counter complacency, operators should adhere to established procedures, such as operating checklists, to prevent single points of failure. Companies should also emphasize the importance of following these procedures through proper training.
Lessons Learned from AWO:
The company policy for the ferry operator stated that there should always be two licensed mariners in the pilothouse when docking or undocking the vessel. In this case, the quartermaster was present; however, he did not hold a valid credential. Regardless of the fatigue or inattention of the master, if company policy had been followed, a second licensed mariner would have been present in the wheelhouse, increasing the chance that the vessel's high speed and deviation from course would have been noticed and corrected well before an incident occurred.
For the full report, visit the NTSB website.
---
SSRP – We Need Your Input!
The value of AWO's Safety Statistics Reporting Program depends on the full participation of all eligible members. This includes carrier members who employ or are responsible for vessel crews in their operations. Please visit the Safety Statistics Reporting Program website and enter your data for the third quarter of 2023, as well as any historical data that may be missing. Your submission is confidential and crucial to our industry's benchmarking, advocacy, and safety and sustainability initiatives. If you have any questions, please feel free to contact mbreslin@americanwaterways.com.
---
AWO Now Accepting Nominations for Tankering & Barge Operations Subcommittee Safety Award
AWO's Tankering & Barge Operations Subcommittee is dedicated to improving the safety of barge tankering operations through targeted initiatives that are identified by industry and informed by collaboration with stakeholders. It has been instrumental in raising awareness of best practices and advocating for innovative solutions to improve workplace safety for tankermen.
The Subcommittee is excited to announce it is now accepting nominations for its 2023-2024 Safety Award. AWO encourages all industry stakeholders to nominate individuals, organizations, companies, or facilities that have improved equipment, personnel, and/or processes to enhance the safety of those involved in cargo transfer operations. All nominations should include a description of the specific improvement made and details about how it enhances tankerman safety. Examples of improvement areas include, but are not limited to:
| | |
| --- | --- |
| Mooring | Vessel to shore communications |
| Access/egress | Flow rate controls |
| Fall overboard & slip/trip/fall prevention | Line clearing operations |
| Transfer equipment handling | Exceptional safety contributions |
---
---
Site Maintenance
The site is currently unavailable due to scheduled maintenance. Please retry again in some time.